I am a big believer in challenging yourself. And participating in an Eat Local Challenge is a great way to learn more about local food offerings and just how easy it is to eat delicious food sourced from your region. I created this salad as part of my Eat Local Challenge a few years ago. It was inspired by Heidi Swanson's recipe "Wheat Berry Salad with Citrus, Toasted Pine Nuts, Feta and Spinach" in her book Super Natural Cooking (one of my favorites). I loved the idea of her recipe, but I needed to make it work with the seasonal ingredients I could find at the farmers market.
Luckily wheat berries are becoming easier to find at the farmers market. Wheat berries are the entire wheat kernel minus the hull. It's what you can use to mill and make your own wheat flour. Or you can use the whole grains as a substitute in dishes that call for rice or quinoa. Soaking the grains can help make them easier to digest and shorten the cooking time, but you can also skip the soaking and cook them about 10 minutes longer.
At it's heart, the recipe is an exercise in flexibility. You could make it every week for a month and do something different with it each time. Try adding different types of nuts, vegetables or cheese. The flexibility makes it perfect for an Eat Local Challenge, or anyone who like to eat seasonally. Even if you are not in the midst of an Eat Local Challenge, it's fun to see how many of the ingredients you can source locally. You can even think of it in degrees:
Beginner
Use local produce, such as green onions, spinach and pomegranate.
Experienced Locavore
Buy the other main ingredients at the farmers market or local specialty shop—local wheat berries, almonds, olive oil, vinegar, goat cheese.
ultimate locavore
Make your own sea salt from local seawater and harvest pink peppercorns from local pepper trees.
---
It's all good — there's no single right way to do it. And the results are delicious!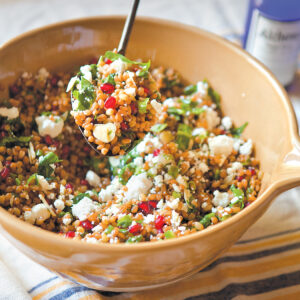 Wheat Berry Salad
This is a hearty, flavorful salad that takes substitutions easily. Try arugula instead of spinach, berries instead of pomegranate or pecans instead of almonds.
Ingredients
2

tablespoons

whey, yogurt or fresh lemon juice,

optional

2

cups

wheat berries

Sea salt

1

pomegranate

¼

cup olive oil

2

tablespoons

wine vinegar

Pepper

2–3

green onions,

finely chopped, tough green ends trimmed away

1

bunch

spinach,

sliced into chiffonade or ribbon-like strips

¼

cup

almonds,

sliced

2–3

ounces

goat cheese,

such as chevre or feta
Instructions
Soak the wheat berries in enough water to cover them. Add the whey, yogurt or lemon juice and let sit for 12–24 hours. Drain and rinse.

Bring about 6 cups of water to boil in a medium-sized saucepan over high heat. Add the wheat berries and a couple teaspoons of salt. Lower the heat, cover the pan and simmer for about an hour, or until the wheat berries are tender and chewy. Drain the wheat berries. While the wheat berries are cooking, cut and de-seed the pomegranate by cutting partway through the top and then prying open the fruit over a bowl to catch the seeds. Separate and discard the white membrane, then set aside the seeds.

In a large bowl whisk together the olive oil and vinegar and season to taste with salt and pepper. Add the still-warm wheat berries, the green onions, spinach, almonds and reserved pomegranate seeds. Stir to combine all the ingredients evenly and to wilt the spinach. Taste and add additional sea salt and a little more vinegar if needed. Then crumble the goat cheese on top with a little more freshly ground pepper and serve at room temperature or slightly chilled.
Photo by Erin Feinblatt