This is one of those chilled soups that really is a salad in a soup bowl. It's chilled, it's loaded with lettuce and herbs, it's the perfect green gazpacho. It's also very adaptable. You can make it spicy or mild and you can customize the end result with a huge array of garnishes. It also happens to be vegan and gluten-free.
This green gazpacho is lighter than a traditional tomato-based gazpacho. So it works well as the opening of a fancy dinner party—and garnishing it will bring out your creative side. It also works equally well as something to keep in your refrigerator for a quick, healthy lunch.
The key to this soup is to serve it well chilled. It definitely needs that hour of chilling time. And if you are serving it on a hot day, use the suggestion of adding a couple small ice cubes on top for one of the garnishes.
I first saw this idea in Spain served with a traditional gazpacho. We were sitting on an outdoor patio on a sunny day in the small city of Garrucha in Southern Spain. I loved the way the gazpacho was served with all the garnishes in separate little bowls so that each person could add whatever and however much they wanted of each. And those little ice cubes were perfect for keeping the gazpacho extra cold.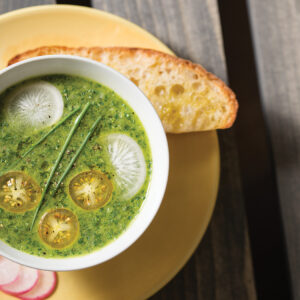 Gazpacho Verde
You can make this soup spicy or mild depending on the type of pepper you use. You can also provide some chopped spicy chili peppers as garnish and let people choose how spicy they want to make it.
Ingredients
1

small clove garlic,

peeled

2

green onions,

roots and dark green ends removed, roughly chopped

1

small pepper,

stem removed (Padron or Shishito for mild flavor, jalapeño for spicy)

1

head Romaine lettuce,

or other flavorful green lettuce, end removed, coarsely chopped

2

handfuls of mixed herbs,

choose from mint, parsley, basil, tarragon or other soft green herbs, stems removed

⅓

cup

olive oil

2

tablespoons

red wine vinegar or sherry vinegar

¼

teaspoon

sea salt

Freshly ground pepper to taste

1¼

cups

cold water or more as needed
Optional Garnish Ideas
Thin slices of radish

Thin slices of tomato

Chopped chives or other herbs

A few drops of olive oil

Thin slices of cucumber

Ice cubes (great when serving on a hot day)

A fan of avocado slices

Chopped chili peppers
Instructions
Place the garlic, green onions and pepper in a blender or the bowl of a food processor and pulse for a few times until puréed. Add the olive oil, vinegar, salt, pepper and water and as much of the lettuce and herbs as will fit and purée. Add the rest of the lettuce and herbs and continue to purée. Add additional cold water if needed to achieve a pourable soup-like consistency. Taste and adjust seasoning.

Place in the refrigerator to chill for an hour or until ready to serve. If the herbs have all floated to the top, just reblend briefly to combine.

Serve in small bowls or small glasses garnished with a couple or more of the optional garnishes, as desired. You can also set out bowls of garnishes and let each person garnish to taste.
Photo by Erin Feinblatt