Photo by Joshua Curry.
I've had a love affair with gazpacho ever since I went to Spain a few decades ago. It was the first meal that I had in Barcelona that started off with gazpacho that got me started. It was a classic red gazpacho (I would later learn that white gazpacho is equally traditional and predates the tomato variety). It was flavorful and cool, the presentation of the garnishes made me laugh. The soup was served with several small, shallow terracotta bowls filled with chopped cucumber, diced peppers and finely chopped onion—and the bowls were identical to the ones I used at home for my cat's food. Luckily, it didn't put me off one bit, and I loaded up my soup with an assortment of garnishes.
From that point on, I made a point of ordering gazpacho every time we sat down to a meal in Spain and at almost every opportunity since. At home I started making my own. Red, white, green — I loved them all. And I especially love this peach gazpacho.
Is Peach Gazpacho Traditional?
Perhaps not. But when life gives you peaches, make gazpacho. Tomatoes are fruits, so it makes sense that peaches could stand in for tomatoes in this dish. Although peaches are sweet, the cucumber, onion, garlic and vinegar balance out the soup to keep it savory. As far as I'm concerned, the key to any gazpacho is the way you garnish it. You can indulge your inner artist and carefully place the garnishes on the soup before serving. Or put out lots of small bowls so your guests can do the honors themselves. Either way, you will end up with something beautiful and delicious.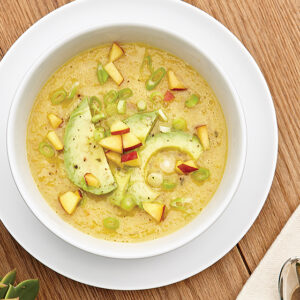 Peach Gazpacho
This is a non-traditional Spanish gazpacho that can be customized with your choice of garnishes.
Ingredients
4

large peaches,

peeled, pitted and cut in chunks 

1

small Persian cucumber,

peeled and cut in chunks 

1

green onion,

roots and dark green ends removed, roughly chopped 

½

clove clove garlic,

chopped 

1

tablespoon

olive oil,

plus a little more

2

teaspoons

apple cider vinegar 

¼

cup

filtered cold water 

Salt and freshly ground pepper, to taste 

Garnish (see note)
Instructions
Place the peaches, cucumber, onion and garlic in a blender or the bowl of a food processor and pulse a few times until puréed. Add the olive oil, vinegar, salt, pepper and water, and purée. Add additional cold water if needed to achieve a pourable soup-like consistency. Taste and adjust seasoning. Place in the refrigerator to chill for an hour or until ready to serve. 

Serve in small bowls or small glasses garnished with a couple or more of the optional garnishes, if desired. You can also set out bowls of garnishes and let each person garnish to taste. 
Notes
GARNISH IDEAS
A fan of avocado slices
Chopped fresh peaches
Thinly sliced green onion
Thin slices of spicy peppers
Chopped chives or other herbs
A drizzle of olive oil
Ice cubes (great when serving on a hot day)