It might be hard to compare the California spiny lobster with the ubiquitously popular Maine lobster, but locally we know that our lobster is utterly divine. Ours lack the large claws (a plus if you're the one trying to catch them), but the bodies are full of muscular flesh that steams, grills and sautés well, and pulls cleanly from the shell. The meat is also considered sweeter than Maine lobsters'.
Whichever lobster coast you fall on, we can agree on two things: One, any lobster you have is best eaten fresh; and two, the lobster roll perfected on the East Coast is really delicious. We can make our own using California spiny lobster while they are in season until mid-May.
California spiny lobsters must be consumed or processed as quickly as possible, or kept alive. Once they die they excrete an enzyme that blackens their flesh. Consider this a good thing, because now you know that your pale, tender-fleshed lobster is fresh.
If you have a fresh lobster and do not have time to eat it all that day, you can remove the tail and freeze it for later. Store the detached tail in a container of water, letting it freeze in the ice. Thaw it in your refrigerator until the ice melts, then prepare it how you like.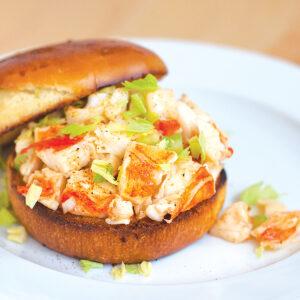 California Spiny Lobster Roll
The East Coast has popularized the lobster roll using Maine lobster. The lobster roll falls into two preparation categories: Maine style with mayonnaise, or Connecticut style with butter. Here are both styles of preparation using California spiny lobster.
Ingredients
1

spiny lobster

2

tablespoons

mayonnaise

A squeeze of lemon plus some zest

1

stalk celery,

finely diced, leafy top retained

Salt and pepper to taste

2

soft rolls,

like brioche or hot dog buns

Butter

Uni,

(optional)
Additional Ingredients for Butter-Based Version
½

stick

butter

the juice of half a lemon

1

pinch

paprika
Instructions
Bring a large pot of salted water to a boil and add the live lobster. Lightly boil for 10 minutes. Drain and rinse with cool water until you can handle the lobster. Using a large knife, cut the lobster lengthwise. Remove all the guts and rinse again. You now have a cooked lobster that's ready to eat as it is.

Pull out the tail flesh, and if you're happy with the amount of meat here, you can work with the tail only. But if you have the will and patience, the meat inside the legs and antennae is also delicious.

Roughly chop the lobster meat into bite-size pieces and place in a bowl. This can now be chilled, or used immediately.

Stir in the mayonnaise, lemon juice, lemon zest, and diced celery. Season with salt and pepper to taste.

Heat up a skillet or grill pan, split open the buns (from the top if you can), butter them generously inside and out, and toast the buns on all sides until golden. A toaster oven works, too.

Scoop the lobster onto the toasted buns, sprinkle with the celery leaves, and optionally top with a few pieces of fresh Santa Barbara uni, then serve.
To Make the Butter-Based Version
Briefly sauté your cooked lobster and celery over medium heat with half a stick of butter, the juice of half a lemon and a pinch of paprika, just enough to melt the butter and heat the lobster through. Season it with salt and pepper, then pile it onto the butter-toasted bun. Top it with the celery leaves and optional uni, then serve immediately.
[Photo by Rosminah Brown]