Santa Maria-Style Barbecue
Where there's smoke, there's barbecue. But if that smoke is from red oak, more precisely California coast live oak, it just might be the famous Santa Maria-style barbecue.
Countless magazine articles, blog postings and even celebrity chefs have raved about our local barbecue—the meat, the menu and the tradition. If you grew up in Santa Barbara County, especially in Santa Maria, the smell of barbecue smoke is the smell of summer. And you would walk over hot coals to sink your teeth into the perfectly grilled beef of a tri-tip sandwich.
What if, on the other hand, you are new to this area—or you were raised by vegetarians? Sit back and let us explain.
There are some who think that all barbecue is Southern barbecue—centered around pork and various sauces. There are some who say that Santa Maria-style barbecue is grilling, not barbecue. Clearly they have not spent enough time on the Central Coast. And perhaps they have not experienced the real deal.
Although I have had excellent grilled tri-tip at any number of places in Santa Barbara, in order to get that real deal I decided I needed to head up to Santa Maria. I hooked up with fellow food writer and Santa Maria resident Maniya Untal to spend some time exploring the tradition and lore of Santa Maria-style barbecue.
The first thing that Maniya wanted to make sure I understood was that there are three very important components to authentic Santa Maria barbecue: the grill, the meat and the menu. The other thing that she didn't mention, but rather demonstrated to me immediately, was that it's all about hospitality. I suppose it's probably pretty obvious that barbecue is not something that you make for yourself and eat solo in front of a television on a Tuesday night. Barbecue is about celebrating, getting together with people, and it's about community.
I could not have felt more welcomed into the community than after the day I spent eating barbecue with Maniya and the Caicco family. Santa Maria has a population that is actually larger than the City of Santa Barbara, but there is a small-town feel to the place as soon as you start talking to people. Everyone is connected by one or two degrees of separation. And there is something about the process of fire, smoke and turning meat into a meal that brings us even closer together.
When you are standing around a grill with the Caicco family, it's a grill that is made locally by Santa Maria BBQ Outfitters, their family business. The grill and the pungent smell of the smoke takes you back to an earlier time.
What is the Origin of Santa Maria Barbecue?
The origins of barbecue in our area are murky, but it is likely that Native Americans used buried cooking pits, and the technique was picked up by the vaqueros, or cowboys, in the Spanish Colonial period. The local ranchos had enormous herds of cattle that were raised for hide and tallow export. At the end of the season the plentiful beef was cooked in large pits, and a fiesta tradition was established.
As the massive scale of pit cooking became less practical, the meat, often top-block sirloin, was cooked on rods over the hot coals of the local red oak. In the book Encarnación's Kitchen, a translation of Encarnación Pinedo's 1889 book El Cocinero Español, there are wonderful glimpses of what food was like in 19th-century California. She has a recipe for pit barbecued beef head (barbecoa carne asada en hoyo o cabeza tatenada), which calls for a pit at least three feet deep. The technique sounds like a very authentic old-style barbecue—although it's interesting that she only refers to using this technique for the head.
Her recipe for Mexican-Style Grilled Beef (Asado de buey a la Mexicana en asado) says that this is the most primitive way to prepare it. She calls for threading the slices of meat on a four-sided iron rod with a point on the end. Her only other instruction is "Put it over some coals and watch it continuously, turning the meats so they stay moist yet get well browned." This is good advice for a modern cook as well.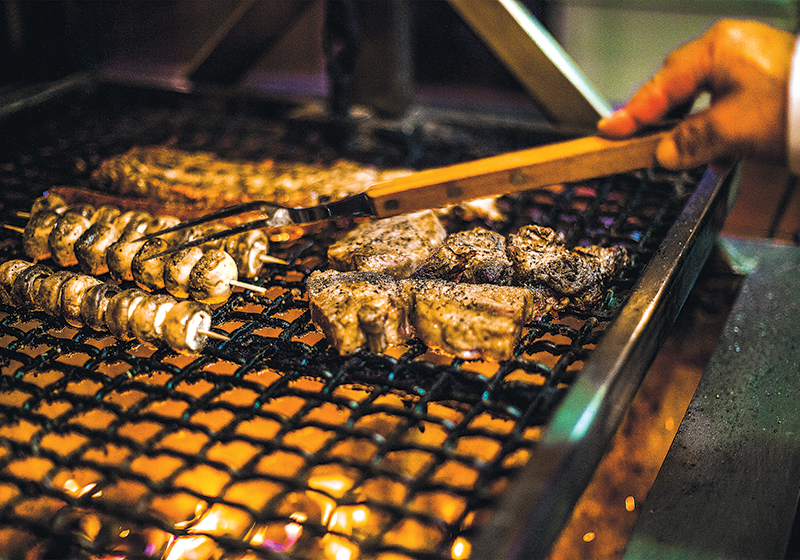 After World War II, restaurants started specializing in oak-grilled barbecued steaks. The first of these was The Hitching Post in Casmalia in the 1940s, then Shaw's Steakhouse and Tavern in 1953, Jocko's in 1956 and the Far Western Tavern in 1958. It was also in the 1950s that the tradition further evolved with the introduction of the tri-tip cut of beef. Sunset magazine helped spread the fame of Santa Maria-style barbecue, and it got a further lift in the 1980s when President Reagan featured it at his Santa Ynez ranch and later at several barbecues on the White House lawn.
The one thing that has changed since the early days of barbecue is the source of the meat. It's difficult to find a place that sources local beef. But increasingly we are finding local grass-fed beef at farmers markets, so it is entirely possible to bring back this tradition.
And tradition is the core concept in Santa Maria-style barbecue. It has been highlighted by celebrity chefs like Bobby Flay, and you can find numerous authentic and not-so-authentic recipes and blog entries about it on the Internet. But the best way to experience the tradition and the lore of Santa Maria barbecue is to be in Santa Maria. The concept may have spread, but the community and the sense of hospitality is right here, standing around a grill pumping out red oak smoke.
Barbecue 101
The Grill
Real Santa Maria-style barbecue is not produced on a gas grill or over charcoal. You need a wood-fired barbecue pit with a movable grate, so that you can adjust the meat's proximity to the heat. And you can't get much more authentic than a grill manufactured right here in Santa Maria. Santa Maria BBQ Outfitters started in 1985 and was purchased by family friend Joe Caicco in 2007. The Caicco family expanded the facility and Joe recruited his daughter, Vincenza (Vinny), to run the company and Vinny's husband, Mathew, to run the production facility.
There are a number of sizes and configurations, from the tailgater to a 10-foot deluxe trailer and the popular 30- by 20-inch grill. They are made with heavy-gauge steel boxes and outfitted with that signature hand crank on the side that allows for adjusting the distance of the grate over the coals. This allows you to get the meat close to the heat to sear and then to pull it up until the meat is slowly cooked to perfection.
It's equally important that the meat is cooked over the coals of red oak logs to give it the authentic smoky flavor. For those who think it takes too long to build a fire and cook over wood, there is another local company in Lompoc that makes a unique grill. Buckaroo Chunk Wood Grills has an electric air ignition system that burns hotter and faster, and actually gets the grill to cooking temperature within minutes. This grill also has the classic adjustable grate, and you can use chunks of local red oak wood, which can be readily found at area grocery stores and hardware stores.
Wondering about the environmental impacts of cooking with wood vs. gas? It seems there are pros and cons to each. Wood fires can emit more particulate matter and carbon dioxide into the air, but gas is derived from non-renewable fossil fuels. Using local, renewable red oak is essentially carbon neutral. Tempted to use charcoal briquettes? You should know that they can include ingredients such as coal, starch, sodium nitrate and borax and can give off a chemical smell when lit. As for lighter fluid, not only can it add a bad taste to foods cooked over it, but it contains chemicals that emit volatile organic compounds that contribute to smog.
The Meat
The centerpiece of Santa Maria-style barbecue is the beef. Traditionally top block is used for large quantities and tri-tip is used for smaller backyard barbecues. Tri-tip was typically ground for hamburger or cut up for stew until sometime in the 1950s. According to legend (and Santa Maria Elks member Larry Viegas) it was meat market manager Bob Shutz who initially experimented with the cut of beef from the bottom sirloin and word began to spread when he started selling it at the old Santa Maria Market, on North Broadway.
The cut is now readily available all over the Central Coast and sometimes found outside the area in specialty butcher shops. You can get local grass-fed beef from Rancho San Julian, Zaca Ranch, HR Cooperative and Watkins Cattle Company.
The Menu
Whether you are eating at one of the venerable Santa Maria-style barbecue restaurants in our area or in a private setting, you are bound to start off your meal with linguica sausage. This cured, paprika-spiced Portuguese sausage must be a link to the Portuguese immigrants who settled in Santa Maria in the 1950s. It is grilled and then sliced up for appetizers or served alongside the main course.
In addition to the beef, the trademark menu also includes pinquito beans, which have been grown in the Lompoc and Santa Maria Valley since the Mission era. They are slowly cooked and served as an essential side dish.
Unlike Southern barbecue with its vinegar- or tomato-based sauces, Santa Maria-style barbecue is served with tomato salsa.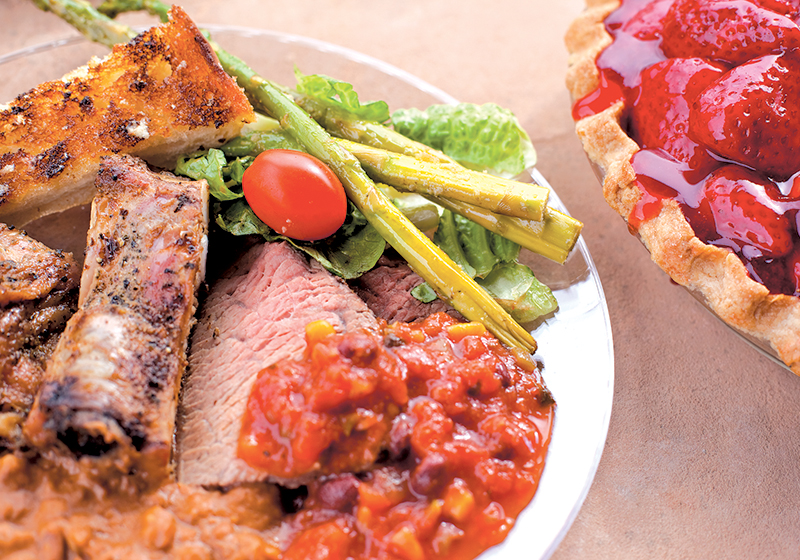 The other classic accompaniments are grilled French bread, a green salad, a glass of local wine or beer and a dessert made from locally grown strawberries.
Living in a world filled with culinary trends and choices, Santa Maria barbecue has proven to be pure, simple and consistent over the years yet so rich in flavor and history. And what better way is there to spend summer than to share this experience with family and friends, whether in your own backyard or at a restaurant in town.
Celebrate summer with great food. Celebrate summer with Santa Maria barbecue.
Santa Maria Style-Barbecue Tri-Tip and Salsa
Most recipes call for using garlic salt or garlic powder in a spice rub, but we like Rancho San Julian cattle rancher Elizabeth Poett's alternative technique of using fresh garlic. The best local tomatoes are conveniently in season at the same time that we generally want to serve barbecue, although you will also find Santa Maria-style salsa made with canned tomatoes and canned diced green chilies. Some also add diced celery to the mix, olive oil and balsamic vinegar. Makes 6–8 servings
Ingredients
1

grass-fed beef tri-tip roast,

approximately 2 pounds

Salt and freshly ground pepper

2

–3 cloves of garlic,

cut in half, or spice rub of your choice
For the Salsa
1 1⁄2

pounds tomatoes,

chopped into ¼-inch pieces

1

jalapeño chile,

finely diced

1⁄2

small red onion or several scallions,

finely diced

1

clove

garlic,

finely diced

Small handful of fresh cilantro,

chopped

Juice of 1 lime or 1 tablespoon red wine vinegar

Salt and freshly ground pepper,

to taste
Instructions
Rub the meat with the salt and pepper. Poke the tip of a small, sharp knife into the meat and insert the pieces of garlic. Alternatively you can rub the meat with a spice rub of your choice.

Put it on the grill over red oak coals, fat side up, and sear for about 5 minutes. Turn it over and adjust the grate so that the meat is about 8 inches from the coals. Cook the meat for approximately 20 minutes per inch of thickness or until it reaches an internal temperature of 130°. Remember Encarnación's advice to "watch it continuously, turning the meats so they stay moist yet get well browned."

Remove and let rest for a few minutes. You can trim the fat then slice against the grain and serve with fresh tomato salsa.
To Make the Salsa
Combine the tomatoes with the rest of the ingredients and season to taste. Salsa should be made to taste, so add a little more of one ingredient or less of another to get it just the way you like it. Let sit for up to an hour before serving to allow the flavors to meld.