[Photography by Fran Collin]
A midsummer mix of lavender, chamomile, mugwort and rose petals is said to bring out sprites, fairies, brownies and elves. Recently, my granddaughter Saraphina created a fairy village under our persimmon tree. Her rose-petaled paths are lit at night by solar lanterns, but so far we haven't spotted any fairies. Perhaps we just need to add a little lavender to attract them.
I've heard that even the firefighters in the Santa Ynez Valley believe in the power of lavender, although in this case it's power to deter rather than attract. Mice had been happily gnawing away at the electrical wiring inside the fire engines at one of the stations. Learning that lavender is known to repel rodents, like mice and gophers, the firemen bought sachets of lavender from a local grower to put under the hood and inside the fire engine. Did it work? It's rumored that it did.
I know that lavender grows well in Santa Barbara and nearby communities. In fact it grows so well that it supports two summer lavender festivals: one in Ojai in June and another in Paso Robles in July. What is it about lavender that attracts humans as well as fairies? I decided to visit some local lavender farms to find out.
Andre Organic Lavender Farm
Owner Cheryl Andre-Wagner
Buellton is my first stop. Heading toward Lompoc on Highway 246, Cheryl's seven-acre field of purple and white lavender appears on my left. I make a quick turn into the dirt driveway that leads to the front of her roadside farm shop.
Cheryl's son Tim is out working in their newly transplanted field. The plants look healthy and robust. They have been recently moved from her previous acreage on Santa Rosa Road. The farm currently has 1,200 plants, with plans to increase that to 10,000. They grow the Grosso, English and Abrialli varieties, which produce more oil and are well-suited for aromatic and cosmetic uses. For culinary use, they grow the more delicately flavored Vera and Sarah varieties.
Cheryl worked in Rona Barrett's lavender fields for five years until Rona sold her lavender farm. Then with the help of her parents, Ruth and Ralph Andre, Cheryl planted her own field of lavender on Santa Rosa Road in Buellton. During the next seven years they built their business together selling lavender direct to the public through their shop and by mail order.
They hand-harvest their lavender dry buds for sachet and culinary use, and make lavender bunches and wands from fresh lavender. With the culinary buds they make lavender salt, pepper and sugar. They also distill buds into essential oil to make a variety of food, cosmetic and cleaning products.
Culinary lavender is less pungent than the varieties grown for aromatic oil and yields much less oil, so it is more often used to enhance food products and is usually sold in bud form, not as an essential oil. Cheryl sells a creamed honey infused with her culinary-grade oil and lavender honey-roasted almonds also made with the oil.
Listening to Cheryl talk with other customers I learn a lot about lavender. For example, she says the lavender oil in her purse-sized lip balm can help heal cold sores, cuts and burns (a first-aid kit in a tube). Her linen water can be lightly sprayed on a pillow to induce relaxation, in corners to keep spiders from settling there and in mop water and on countertops to reduce bacteria. Culinary lavender salt brings out the flavors of the lettuce in a salad, and lavender pepper accents baked chicken. A lavender bath reduces arthritis pain and lavender mulch keeps bugs away from plants.
I buy some lavender dog shampoo. Cheryl warns that it doesn't produce a lot of lather but fleas and ticks don't like it at all, and it leaves your dog smelling good. She doesn't mention that my dog's fur would also be extremely soft and shiny afterwards. I'll be buying more of that.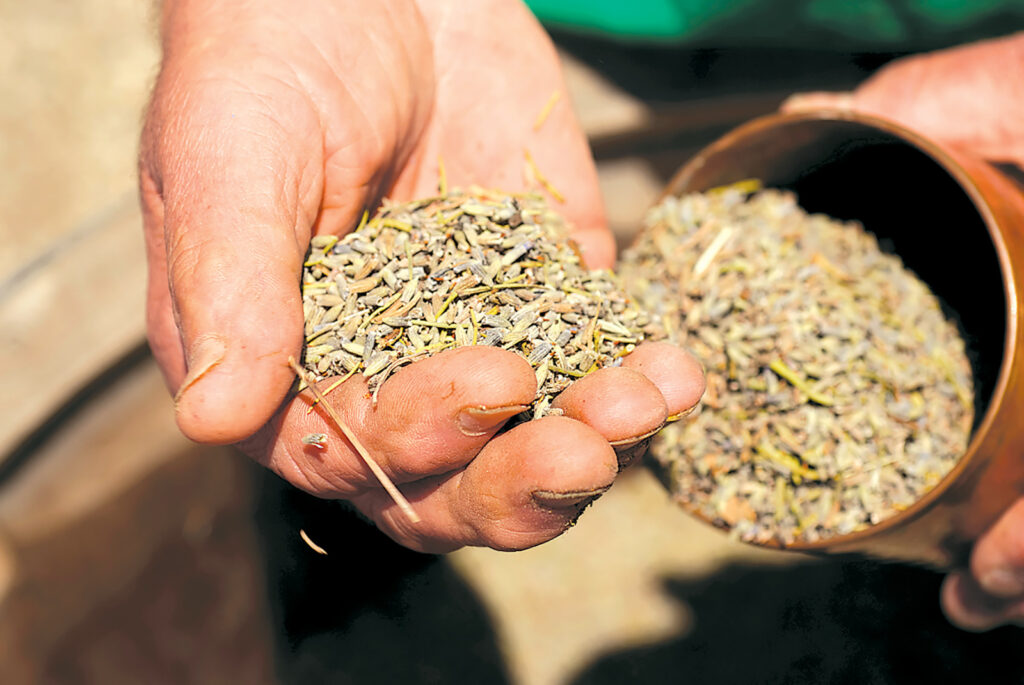 Clairmont Farms Lavender
Owners Meryl Tanz and Glenn Thalheimer
My next stop is Clairmont Farms Lavender in Los Olivos. Look for their sign just outside of Los Olivos on Roblar Road. When the lavender is in bloom, you can't miss it. The narrow olive-tree-lined driveway allows you to pull over between gnarled trunks to let an oncoming car pass. When you see the miniature Statue of Liberty that stands in a small patch of lavender in front of their house, pull into the gravel parking area in front of the shop.
The fragrance, color and textures will make you feel like you've walked right into a landscape painting. In fact, watercolorists come often to paint this field of lavender. Meryl says many people gasp as they get out of their cars and tell her "You live in Paradise!" She says each morning as she walks down the driveway to pick up the newspaper she breathes deeply and counts her blessings. Life is good.
Twenty-five years ago this was a horse farm where Meryl raised thoroughbred racehorses. She began the conversion 14 years ago after selling most of her horses. She still loves to ride, but today she's happy to sit with me in the wooden chairs near the copper distiller and talk about lavender.
Marcus, an employee of 25 years, is preparing the distiller for the next batch of lavender buds. Meryl's dog is resting in the sunshine. One of her roosters crows in the distance while she explains that her husband, Glenn, has taken one of their hens to the vet. Each chicken, she says, has its own personality, and most of them have names. A colorful group of hens are nearby, pecking the ground for bugs.
Their five acres of lavender are mostly the Grosso variety, but she uses only the Provence variety for her culinary items, which include lavender salt, pepper, tea and honey infused with lavender buds.
Her body products are sold around the valley in antique, clothing and local grocery stores, as well as at a new artists' cooperative in downtown Los Olivos. Her most popular items are the scrub, hand lotion, body butter, lip balm, essential oil and soap. The reorder rate is high. Visitors to the valley often stop to visit the farm, then re-order by mail or come back on their next visit. At the end of the day Meryl says, "I have chatted with Russians, Serbs, French people, a lot of British, Canadians, Americans from many states and a few Australians."
Customers arrive frequently as we talk. "Those people were from San Diego," she tells me. When the bloom peaks in July, there will be a steady stream of cars coming up the drive.
Before I leave, I purchase a few products myself. My all-time favorite is the Lavender Honey Wash, which contains honey blended with lavender, rose, geranium and orange essential oils. You massage a teaspoon of it into your face, then lie back in the tub for a few minutes. Who would have guessed that honey could make your skin feel so good? I also buy a dozen freshly laid eggs to take home. Meryl invites me to stop by with a picnic lunch to enjoy the pre-harvest bloom in July. I love my job!
Rivendell Aromatics
Owners Sandy and Roland Messori
At this point I'm convinced the fairies are right: Lavender is ambrosia for the soul. I have one more farm to visit. This one is just outside of Carpinteria, about four miles down Highway 150. The driveway sign is on the right as you head towards Ojai. Visits are by appointment. My daughter-in-law Kris has joined me for this visit.
Thirty acres of this 40-acre farm are planted with Hass avocados. All are in bloom and we can hear the hum of bees at work pollinating and gathering nectar. In the grass and alongside the road we pass clusters of brilliantly colored flowers—a deep purple bearded iris here, star-shaped borage flowers there. We spot orange calendulas, Clary sage, tall white flowers and smaller yellow and red flowers.
We meet Sandy at the house. Her van is packed with items to sell at the Ojai Farmers Market on Sunday, but she has set some aside to show us.
Sandy studied ornamental horticulture at Cal Poly. After college she moved to Ojai and took a job at the Ojai Valley Inn & Spa, where she built their labyrinth, created and maintained an extensive herb garden and mingled fragrant herbs with the more traditional landscaping plants.
At home, she raised herbs to sell at farmers markets. Soaps were her first herbal product: lavender, lemon verbena, spearmint oatmeal and Ojai orange are her best-selling soaps. But it was distilling her first essential oil and creating healing oil blends that brought it all together for her. Her first distiller was a small glass tabletop unit. Sandy says, "It's magical work. I feel like an alchemist turning plant materials into a golden bottle of precious essential oil."
When they moved to the farm she had room for the larger distiller she shows us. This one holds 75 pounds of plant material (about 30 full-sized lavender plants). Her Grosso lavender plants yield about 20 ounces of oil per batch. Other oils are even more precious, yielding very small amounts of oil per pound of plant material.
The plant materials rest on a rack at the bottom of the container. Steam generated from below is forced up through the plants and carries the oils into the condenser. The water (hydrosol) and oil drip into a collection bottle. The oil rises to the top, where it accumulates and is siphoned out, separating it from the hydrosol which is siphoned into another container.
Both the oil and the hydrosol are useful products. In fact, in ancient times, hydrosols were used more widely than essential oils. Sandy sells many oils and hydrosols, each with their own healing characteristics. Along with over 50 varieties of lavender, she grows Clary sage, Helichrysum, incense cedar, sacred white sage, lemon verbena, rosemary, lemon eucalyptus and California fennel. Helichrysum (also known as Immortelle), for example, helps to ease arthritis pain. Hydrosol sprays help clear the mind and brighten the spirit. Teachers buy Sandy's lavender hydrosol spray for its calming effects in the classroom.
In addition to fields of lavender and Helichrysum, Sandy has created a labyrinth with lavender plants. She invites us to walk the three-ring Chartres-design "lavarinth." The sound of the bees in the trees around us supports meditative thoughts as we walk to the center and back out just as the sun breaks through the morning fog.
Beyond the lavarinth is a large display field of various types of higher-yield aromatic Lavandula intermedia varieties and the delicate Lavandula angustifolia more commonly used for culinary purposes.
On our hike around the farm, we pass several installations of beehives, rented for pollination. The lavender comes into full bloom when the avocado bloom ends, so the beekeeper pulls the avocado honey frames and puts in new frames for lavender honey. Sandy sells her lavender-pollinated honey at the Ojai Farmers Market.
Our visit ends far too quickly, but we promise we'll come to the Ojai Farmers Market and the Ojai Lavender Festival. We each purchase a bottle of Cleopatra's Secret rejuvenating face oil, a few hydrosol sprays and a jar of honey.
A Golden Bottle of Oil
I come away from these visits with a new appreciation for that small vial of pure lavender oil extracted from fields of vibrant flowers. Whether or not you believe in plant energetics or fairies dancing in the moonlight, you can't help but leave these farms feeling refreshed and hopeful that a drop of lavender oil on a paper towel in the dryer or a few drops in your shampoo bottle will soothe away your cares and lift your spirits.
Personally, I know for sure that a drop or two on the path to the fairy village will help to inspire and support a little girl's belief that fairies walk along those rose-petal paths in her village at night while she is sleeping.
---
Growing Lavender
Lavender loves our Mediterranean climate of cool, wet winters and warm, dry summers. It grows easily in many Santa Barbara gardens, but here are a few tips if you are growing it for the first time:
Plant your lavender in a spot with full sun and somewhat sandy soil or a location with excellent drainage. While it likes healthy soil, lavender does not need fertilizer and is rarely bothered by pests or diseases. It is drought-tolerant, but it does need summer watering when dry. Gravel makes a good mulch around lavender plants.
Pick flowers early in the morning. Harvest often to encourage more blooms and to keep the plants compact. You can prune lavender plants back by a third to a half after flowering, but don't cut too far back into old wood.
A wide selection of lavenders can be found at our local nurseries. Not all lavenders are suitable for culinary use. Here are some varieties of culinary and aromatic use that are worth seeking out:
Lavandula angustifolia "Munstead"
This is a popular variety for culinary use as well as fragrance, and it is a beautiful addition to an herb or vegetable garden.
Lavandula angustifolia "Sarah"
A good culinary lavender with a compact size, making it ideal for pots and edging.
Lavandula angustifolia "Vera"
This is thought to be the original species and is suitable for both culinary and fragrant use.
Lavandula intermedia "Abriali"
This is an older variety that is well suited for fragrance and oil production.
Lavandula intermedia "Grosso"
This is the classic lavender grown for fragrance, but with its hint of camphor it is not a good choice for cooking. The large spikes of flowers are perfect for arrangements.
Lavandula intermedia "Provence"
Grown for both fragrance and culinary use, this variety is also a little more tolerant of less-than-perfect drainage.
---
Lavender Farms
Andre Organic Lavender Farm 926 W. Highway 246, Buellton
open Mon–Thu 9am–4pm,
Fri–Sat 9am–5pm
805 350-0593
andreorganiclavender.com
Clairmont Farms Lavender
2480 Roblar Ave.
Los Olivos
open daily 10am–6pm
805 688-7505
clairmontfarms.com
Idyll Horse Farm
Farmers market: Saturday in
Santa Barbara
Rivendell Aromatics
Visits are by appointment;
805 649-2476
rivendellaromatics.com
Farmers market: Sunday in Ojai
Santa Barbara Lavender Farm
805 686-9522; sblavender.com
New Oak Ranch
9599 Ojai-Santa Paula Road
U-pick lavender. To visit call 805 640-1189
newoakranch.com
Lily Bee Lavender
eifrid.com/lilybee/lavender-perfume/index.html
Santa Ynez Lavender
santaynezlavender.com
---
Lavender Festivals
Ojai Valley Lavender Festival
Libbey Park, Ojai
ojaivalleylavenderfestival.org
Central Coast Lavender Festival
Downtown Paso Robles City Park
cclavenderfestival.com
---
Growing Lavender for essential oil
allnaturalhealth.us/lavender_production.htm